Nearshoring to Mexico can be one of the most profitable things a foreign company can do. Certainly, if this company is from Europe, for example, it would be called offshoring to Mexico. But these two things are very different from outsourcing. 
Nearshoring software development to Mexico can give your company a competitive edge. We will explain everything about it in this article.
So, first, let's get some terms right.
Outsourcing to Mexico means hiring a completely external agency or team of developers to do the work that you need. It is an agreement between two parties in which one party agrees to fulfill a specific job and the other party agrees to pay a determined fee for it. Once the job is done the contract is finished. You can outsource in your own country or you can outsource to a different country. Obviously, there are countries that have cost advantages.
Offshoring to Mexico, on the other hand, is the practice of basing a part of a company's operating activities in a different country, with more favorable economic conditions, regardless of its geographic location. Low Labor cost is usually what companies look for.
Nearshoring to Mexico is the practice of basing a part of a company's operating activities in a different country, with more favorable economic conditions, whose geographic location IS close to the parent company. Besides low costs, the same time zone and connectivity are some of the factors that are looked at in a nearshore team. IT companies, that focus on highly qualified employees, usually choose Nearshoring. Therefore, nearshoring software development to Mexico is a really good idea for American companies.
Why did they decide to use the word "shore" if it really doesn't have anything to do with the coast still goes over my head. Furthermore, while doing research for this post I found out about one more not-trendy-at-all term… *drum roll, please*  Right-shoring. But I guess that is a subject for a different post. 
As for now let's focus on nearshoring to Mexico.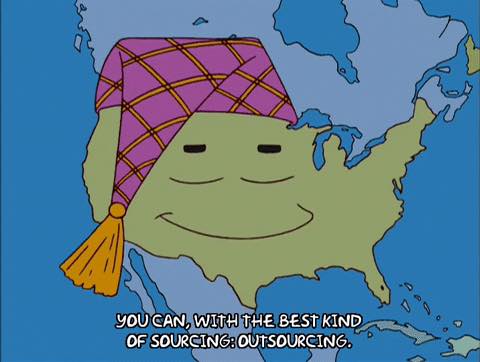 Outsourcing Software Development
Companies are good at one core thing. Outsourcing helps them achieve greater economies of scale and, most importantly, greater specialization. Therefore, outsourcing allows firms to focus on their core competencies. This is an awesome thing. In a perfect world, every firm would become the best at a particular process. Then it would become outstandingly efficient at it and everybody would hire it to do exactly that. Ok, so this world is not perfect but still, this is the biggest advantage of outsourcing and it is the key element for a company to decide what and when to outsource. The train of thought basically goes like this: are we good at this particular process? No. Is there someone else that is? Yes. Can they do it cheaper or better than us? Yes. Ok, let's outsource.
Another reason you could decide to outsource is if you get a lot of unexpected work. Let's say that a client places an order that you don't really have the installed capacity to fulfill. There are lots of things to take into account but you could take the job and outsource a part of this to another agency. And this is exactly the moment where the disadvantages start to come up.
Bad Quality Control
Let's say that this is a good customer of yours. You could potentially make a lot of money but you also need to be sure of the quality that you will deliver, otherwise, you could lose your customer and end up losing more money than you earned in that deal. So, how can you make sure the quality of it's not really you the one that is making the work? The short answer is that you can't.
All you can do is check the work thoroughly before delivering it to your client. But let's say that your delivery date is tomorrow and today you find out that there are hundreds of things to change. You can't tell your client that is the other company's fault, can you?
Difficult communication
Another disadvantage is the difficulty in communication. Communication is a hard thing. It is hard to communicate properly with people we are used to, and it gets even harder to do with people you just met. The requirement for staff in outsourced companies are very high, this leads to transfer of knowledge and, besides reducing the quality of the software, you talk to new people constantly which hardens communication further.
Advantages of Outsourcing
Economies of scale
Specialization
Time optimization
Disadvantages of Outsourcing
Bad Quality Control
Difficult Communication
High Staff Rotation
Offshoring Software Development
Indeed, nearshoring to Mexico is similar to offshoring. However, it's not so far, and this has huge advantages. An offshoring company is an LLC or similar kind of entity formed in a foreign country. Certainly, this entity may open bank accounts, own property, enter into written agreements, operate a business, purchase and sell and get into other forms of businesses. Since the boom of information technology, the scope of IT offshoring expanded rapidly in many parts of the world.
Cost-saving is the main factor why companies offshore in pretty much every industry. In the software industry particularly, there are other reasons. These are either time,  skills, or a combination of them. Unlike other types of labor, software development requires a lot of technical skills and there are way fewer software engineers in the world than needed for the software.
So the main reason, cost, is pretty straightforward and easy to understand; you pay less to your developers and they don't mind because things are cheaper in their countries. Everybody is happy. Since these countries want to attract more foreign investment talent starts to bloom and you have a nice combination of low cost highly qualified workforce. But it isn't all fun and happiness. Time zones can get pretty annoying.
Time Zone Difference: An Offshoring Nightmare
Contrary to nearshoring to Mexico, offshoring has a big disadvantage. As you know, when looking at a map, the further you move to the left or right the larger the time difference becomes. And this isn't government-imposed either so don't start blaming big brother for this one. This is the natural way in which in some places it is daytime and, in some, nighttime. And there are some places that have a time difference of more than 24 hours.
Time zone difference is one of those things that at first looks like it's not really that bad until you are in the day-to-day operation and you realize that while you are all fresh and ready to tackle your day and in let's-conquer-the-world mode, your team abroad is in an after-hours, end-of-the-day, zombie-like mode. The difference in time zones has always been a significant issue with offshoring. Developers must often work at night, which of course reduces the quality of the end product. Software errors are typically the result of stress and sleeplessness, and many programmers burn out before the project is complete.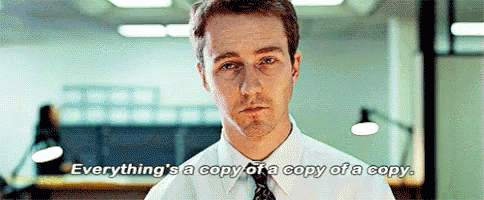 Bad Connectivity
Another disadvantage is bad connectivity. To hire a team of people and have them work without supervision is every CEO's dream, but it is rarely the case. In reality, you are going to need to travel constantly to the country where your offshore company is established. This is another big point for nearshoring to Mexico.  When you establish your company in a country that is too far away this turns costly and tiresome. The following table gives you an idea of the times and distances to different cities that are commonly used for offshore IT and software development.
Culture Shock
Cultural difference is another big disadvantage. I know, I know, it shouldn't be. But the reality is that the team of expatriates that you will send to direct the operation (which you should) would probably prefer to go live in a place that's closer to home and that shares a lot of your culture.
IP Theft
One last disadvantage is IP theft and security issues. You need to find a country where the IP laws are shared with your country. Otherwise, you could be a victim of IP theft which is not a cool thing. There are several companies that can help you with this. But the more protected you are the better. These are the most valuable assets we are talking about.
Advantages of Offshoring
Lower costs.
A larger pool of talent.
Time-saving.
Disadvantages of Offshoring
Time Zone Differences.
Hard to visit.
Cultural Issues.
IP Theft and Security Issues.
Nearshoring to Mexico: Your In-House Mexican Team
Now let's talk about nearshoring to Mexico by hiring what I like to call your own In-House Mexican Team. I know it's in Mexico, but it is still your house. Have you ever heard the mi casa es su casa expression? We invented it (probably).
Connectivity: Mexico's Nearshoring Advantage
So first things first: Geographic Location. Nearshoring software development to Mexico gives you the chance to visit often. I know all there is to know about how we live in a globalized, borderless, digital, virtually interconnected, everything-a-click-away era. But there are things that haven't changed and distance is one of them, at least for now (please hurry, teleportation researchers!).
Truth is nobody likes sitting in a plane for 15 hours straight just to have a work-related visit. So this is a big advantage that Mexico has for nearshoring software development over other parts of the world. Mexico offers several easy-access International Airports.
For example, Guadalajara, the Mexican Silicon Valley is about 6 hours away from the furthest place in the US. This means that you could wake up one morning, hop on a plane, and be eating tacos by lunch (Real tacos too, not Taco-bell).
In the following image, you can see a map with the connection times to Guadalajara, Mexico.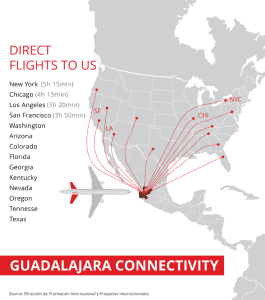 Geographic location still plays a big role in how the economy works. Therefore working with people nearby does make a big difference in the levels of productivity and efficiency. And talking about efficiency, how about having the same time zone?
Time Zone Difference: Synchrony While Nearshoring to Mexico 
The biggest difference there can be from any place in the US with a place in Mexico (Ok, excluding Hawaii and Alaska) is a 2-hour difference. And this is in an extreme case as in coast to coast. For example, Guadalajara and Chicago have the same time throughout the year. This makes it really easy to communicate with your nearshore software development team in Mexico. With software like Skype or Google Hangout, it can really be as if you are working in the same place. This reflects the quality of your software.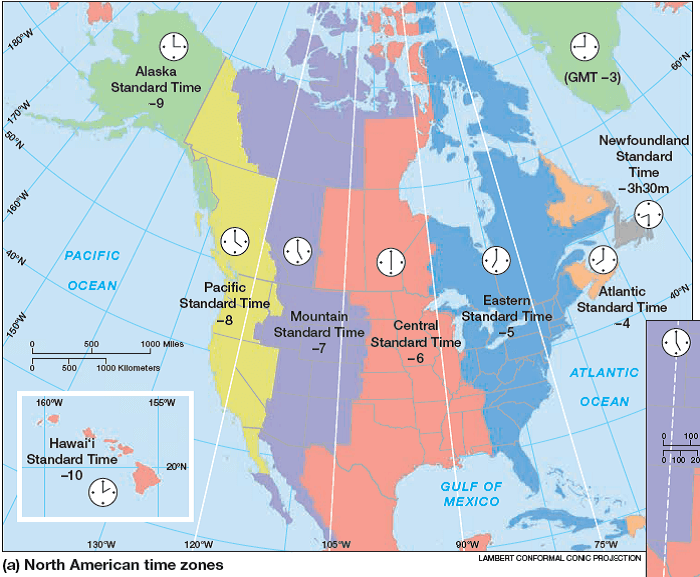 A Large Pool of Talent: Mexico's Nearshoring Treasure
Mexico has a large pool of talented software developers and IT professionals. Mexico graduates upwards of around 65,000 engineers in IT & Software related fields. There are more than 80 higher education and other institutions offering programs in engineering. There are close to 500,000 IT & Software professionals in Mexico. And this is the reason why Guadalajara, a city in the state of Jalisco, was chosen to become the next Creative Digital City. This is a dream for anyone nearshoring software development to Mexico.
Low Costs: The Why of Nearshoring to Mexico
Talent is great. But the awesome thing about hiring a Mexican team of talented developers is that it costs a third of what it would cost to hire them in the US is a whole different thing. In our ebook, Mexico's Software Development Costs you can get a clear picture of how much it costs to start your operations here. But one thing is certain, nearshoring software development to Mexico will save you a lot of money.
Nearshoring To Mexico: Similar Cultures = Better Communication
Most professionals in Mexico speak English quite well. But besides that, Mexico and the US have always had a certain cultural affinity. All of the media that we get (movies, music, series et cetera is usually in English). This may be one of the reasons why we are so used to the American culture and have such a high number of English-speaking professionals. Therefore, you can be sure that  if you nearshore your software development to Mexico, you will be able to understand your team.
Government Incentives: Mexico's Nearshore Edge 
Mexico's government is determined to consolidate the country as the creative digital hub of Latin America. Therefore, it has developed public programs that assist IT & software companies by providing financing and resources. This is one of the reasons so many companies are nearshoring software development to Mexico.
Some of the most important programs are:
CONACYT. Mexico's Science & Technology Council. They support R&D, technology infrastructure investments, and IT innovation projects.
MexicoIT. Their goal is to raise awareness of the country's IT industry, the most important nearshore technology provider to the United States.
PROSOFT. Provides financial support for the development of software &  IT projects in Mexico.
IP Certainty: A Nearshoring To Mexico Overlooked Benefit
In Mexico, intellectual property rights are well stipulated and enhanced by international agreements that provide solid protection to your company's intangible assets. Mexican government agencies overlook intellectual property rights protection based on the Industrial Property Law, the Federal Copyright Law, and the International Agreements to which Mexico belongs. Protection of intellectual property in Mexico improved when the country became a party to the North American Free Trade Agreement.
Mexico is also part of the World Intellectual Property Organization since 1975. The WIPO is the global forum for intellectual property services, policy, information, and cooperation. Mexico is part of the Paris Convention for the Protection of Industrial Property, which was one of the first intellectual property treaties. Therefore, when nearshoring software development to Mexico, you can be sure your IP will be protected.
Advantages of Nearshoring to Mexico
Great Connectivity
Short Flights
Same Time Zone
Large Pool of Talent
Government Incentives
Disadvantages of Nearshoring to Mexico
Ok, so to be fair let's find a disadvantage. Some large companies such as Google or Facebook have found value in the Time Zone difference that I so harshly criticized. It does make sense to have people developing 24 hours a day. It's like capitalism's dream come through. This has to do with the Right-Shoring term that I mentioned earlier. But keep in mind that we are talking about really big companies that have the resources to control a lot of different entities. For smaller companies, nearshoring software development to Mexico will for sure be the best option.
What Can You Do To Profit From It?
We know it's hard to think about moving a part of your operations to a different country and we have helped many companies of different sizes to do it hassle-free. Mexico is a different country with a different language, culture, business ways, and, most important, different laws.
This is where your company meets Start-Ops; your Mexican partner. The talent is right there. All there is to do is to establish an office in Mexico, hire a team of developers and start working. At Start-ops, we are experts at providing all-inclusive soft-landing solutions.  You can rely on us for everything your company needs to establish in Mexico.
A business needs profits to survive & grow. Stop being frustrated by thin margins. We have a step-by-step plan to help you succeed, check it out.